Solutions Manufacturing, Inc. is a leading provider of high-quality precision machining services. Since 1994, our company has served clients throughout the commercial and industrial sectors with innovative and reliable precision machining as well as excellent customer service to create custom-made components for the following industries: 
Aerospace

Agricultural

Computer

Construction

Electronics

Energy

Food Processing

Hydraulics

Material Handling

Medical/Dental

Military/Defense

Telecommunications 

And many more
In our state-of-the-art machine shop in Illinois, we specialize in computerized numerical control (CNC) milling and turning, along with our value-added services, to act as a one-stop-shop solution for our customers.
Click to Expand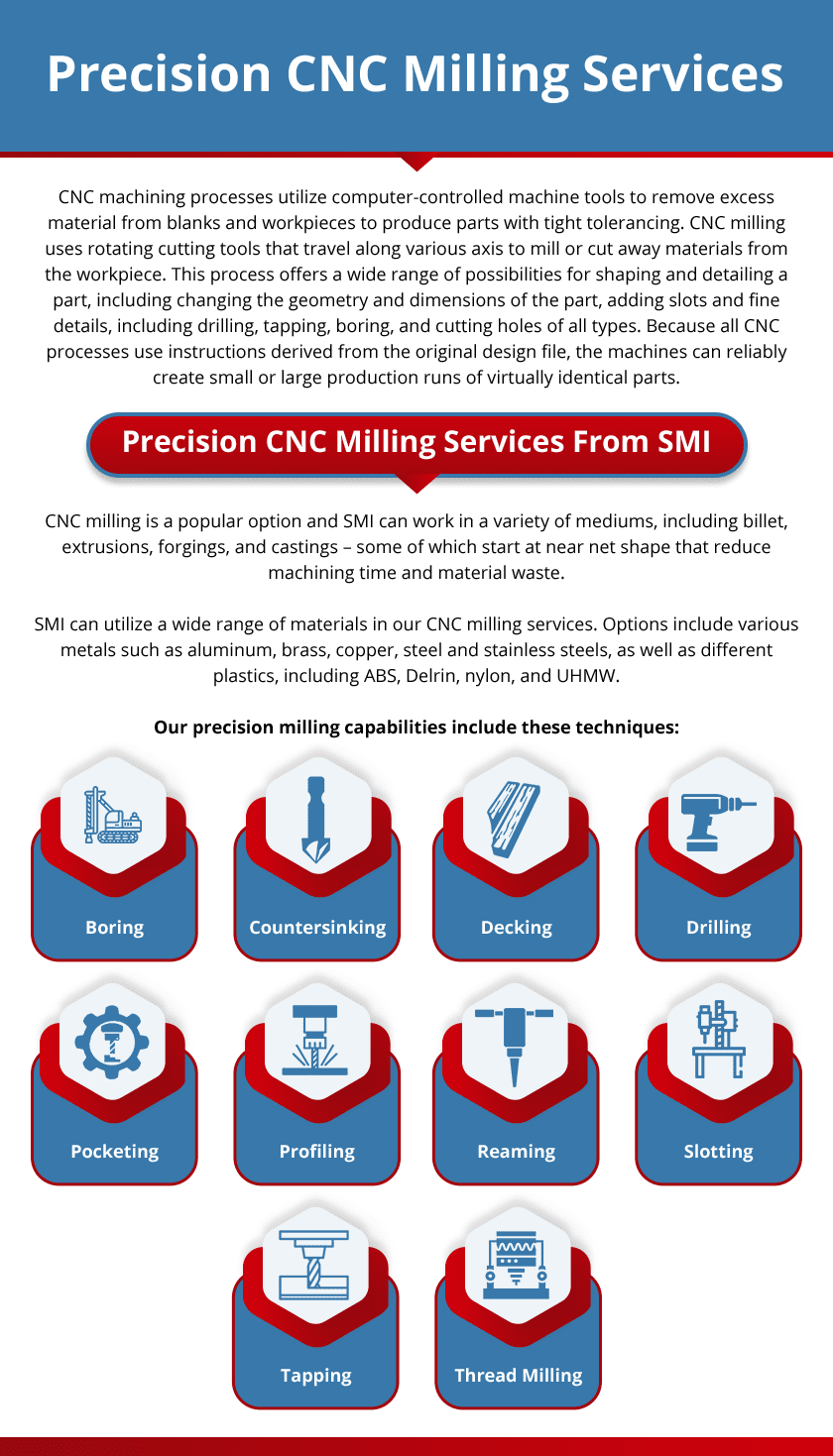 CNC machining processes utilize computer-controlled machine tools to remove excess material from blanks and workpieces to produce parts with tight tolerancing. CNC milling uses rotating cutting tools that travel along various axis to mill or cut away materials from the workpiece. This process offers a wide range of possibilities for shaping and detailing a part, including changing the geometry and dimensions of the part, adding slots and fine details, including drilling, tapping, boring, and cutting holes of all types. Because all CNC processes use instructions derived from the original design file, the machines can reliably create small or large production runs of virtually identical parts. 
Precision CNC Milling Services From SMI
CNC milling is a popular option and SMI can work in a variety of mediums, including billet, extrusions, forgings, and castings – some of which start at near net shape that reduce machining time and material waste.
SMI can utilize a wide range of materials in our CNC milling services. Options include various metals such as aluminum, brass, copper, steel and stainless steels, as well as different plastics, including ABS, Delrin, nylon, and UHMW. Our precision milling capabilities include these techniques:
   

Boring

   

Countersinking

   

Decking

   

Drilling

   

Pocketing

   

Profiling

   

Reaming

   

Slotting

   

Tapping

   

Thread Milling

   

And more
In our machine shop, we use many different advanced technologies to achieve finished products. We utilize CNC controls and 4th-axis CNC machines, indexers, pallet changers, and vacuum work holding fixtures, among others. Our team of engineering and production specialists has the experience and the expertise to create high-quality machined parts with milled features.
Click to Expand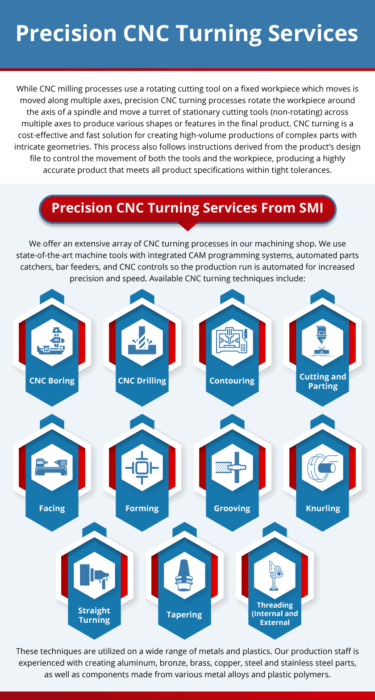 While CNC milling processes use a rotating cutting tool on a fixed workpiece which moves is moved along multiple axes, precision CNC turning processes rotate the workpiece around the axis of a spindle and move a turret of stationary cutting tools (non-rotating) across multiple axes to produce various shapes or features in the final product. CNC turning is a cost-effective and fast solution for creating high-volume productions of complex parts with intricate geometries. This process also follows instructions derived from the product's design file to control the movement of both the tools and the workpiece, producing a highly accurate product that meets all product specifications within tight tolerances.
Precision CNC Turning Services From SMI
We offer an extensive array of CNC turning processes in our machining shop. We use state-of-the-art machine tools with integrated CAM programming systems, automated parts catchers, bar feeders, and CNC controls so the production run is automated for increased precision and speed. Available CNC turning techniques include:
   

CNC boring

   

CNC drilling

   

Contouring

   

Cutting and parting

   

Facing

   

Forming

   

Grooving

   

Knurling

   

Straight turning

   

Tapering

   

Threading (internal and external options)
These techniques are utilized on a wide range of metals and plastics. Our production staff is experienced with creating aluminum, bronze, brass, copper, steel and stainless steel parts, as well as components made from various metal alloys and plastic polymers.
Click to Expand

Our value-added services allow us to offer completed components with all features and finishes ready for the assembly floor, ultimately condensing the production supply chain. Our value-added services include:
Manufacturing Services
Automated hardware insertion

Bead blasting

Broaching

Deburring

Grinding

Heat treating

Lapping

Laser marking

Polishing

Stroke sanding

Sub and final assembly

Time saving

Welding (MIG and TIG)
Additional Finishing Services
   

Anodizing

   

Chemi-film coating

   

Electropolishing

   

Etching

   

Painting

   

Passivation processing

   

Plating

   

Powder coating 

   

Silk screening
Choose Precision CNC Milling, Turning, & Value-Added Services at Solutions Manufacturing, Inc.
At SMI, we offer comprehensive, automated CNC machining and value-added services to produce both low- and high-volume orders for on-time delivery across many industries. Our technology supports most file formats for our customers' convenience, including DWG, DXF, IGES, PDF, MasterCam (MCX), and STEP files, among others. As an ISO 9001:2015 certified company, we are committed to providing high levels of quality and service to our clients along with strict adherence to industry standards.
Contact us today to learn more about our capabilities or request a quote for pricing details.